Seasons Greetings!

Lauren is celebrating this holiday season with a sense of profound gratitude and boundless joy!

However life wasn't always like this.

In the past, Lauren required 24 hour care and at times was so weak that she could not feed herself. Her parents would lovingly feed her, while her big sister would tenderly apply her makeup. The holiday season was particularly challenging as it was a reminder of yet another year that had come and gone with little answers and worsening health.

However, this year is very different and Lauren and her family are filled with a sense of joy and liberation!

In fact, just the other day, Lauren's mother Cheri sent me a copy of the Christmas card that she wrote to their friends and family.

With Cheri's permission, I have included her yuletide message as written in her own words:

"Dear family and friends -

We wish you a very Merry Christmas and a Happy New Year!

This year our family has been blessed in so many ways, especially so with our daughter Lauren's remarkable return to health!

Over many years as her health declined due to an "explosion" of allergies, multiple infections and chronic stress, her list of medical conditions grew.

Unfortunately, in the attempt to treat her Postural Orthostatic Tachycardia Syndrome (POTS), Fibromyalgia, Chronic Fatigue Immune Dysfunction Syndrome (CFIDS), etc., certain medications prescribed by various specialists caused further complications and symptoms.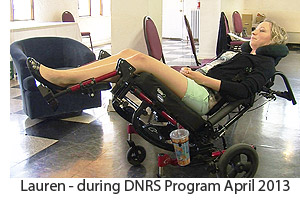 A year ago at this time, Lauren's situation had become grim, with extreme sensitivity to light, sound & motion, and debilitating pain. A reclining wheelchair was ordered since Lauren could not remain upright for more than a couple minutes at a time.

Luckily, one of Lauren's doctors informed us of a brain retraining program another of his patients had mentioned to him (but had not yet begun).

We immediately ordered the Dynamic Neural Retraining System DVDs, and Lauren made enough improvement such that she could physically travel to and attend the next 5-day in-person DNRS seminar in Santa Fe, NM this last April.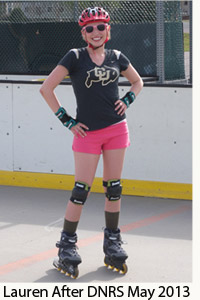 This in-depth group approach enabled Lauren to better implement the combination and sequence of neuroscience techniques developed by Annie Hopper, who founded the program and led the seminar.

Through persistent interruption of her hyper-stimulated amygdala, a structure that triggers the fight-flight response (further aggravated by certain medications and immune system treatments) and use of neuroplastic-inducing imagery, she simultaneously renormalized her parasympathetic nervous system, cell function and detoxification pathways, hormone balance, digestive processes, etc.

Within 2 weeks of diligent application of her "practice," she no longer needed her wheelchair!!!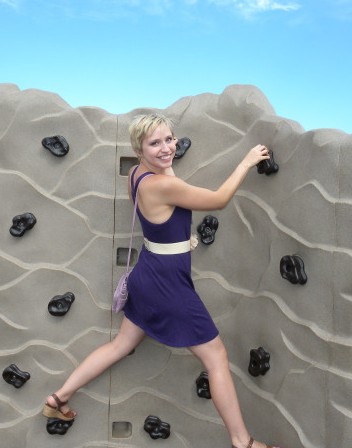 Soon after, Lauren was attending sporting events, taking dance and cello lessons, traveling to Disneyland, and went from tolerating only a dozen foods to eating absolutely anything (including shellfish, usually considered to be a life-long allergy).

She now works as a nanny, substitute day care teacher, and is signed up to take Calculus II next semester.

While some medical doctors are aware of the commonalities between many medical conditions such as Multiple Chemical Sensitivities, Fibromyalgia and other pain syndromes, Chronic Fatigue Syndrome, Postural Orthostatic Tachycardia Syndrome, Electric/Electromagnetic Hypersensitivity, Food Sensitivities, Gulf War Syndrome, and other stress/anxiety disorders, most are not aware of the root cause: maladaptive limbic system function, usually triggered by chemical exposure (neurotoxins, medications), physical injury (including certain bacterial or viral infections), or emotional trauma/chronic stress.

Lauren also developed her own website to help others learn more about this new treatment option: www.wheelchairtorollerblades.com. Lauren likes to say that she is grateful that her recovery occurred in the way that it did, so that others who are suffering from limbic system impairments can create their own miracles of healing!"

In the Spirit of the joy of this season, and the liberation that comes from healing, my team and I are pleased to invite you to join us in the new year at our next in-person program in Ojai California on January 10 to 14th. To start your registration process please go to info@dnrsystem.com. Our early bird registration deadline is Dec. 21st.

On behalf of all of us at DNRS, we wish you all a joyous holiday season and new year filled with great health, love and liberation!

Yours in Good Health,

Annie Hopper
and the DNRS Team
www.dnrsystem.com

To view past newsletters: http://dnrsystem.com/newsletter.html