Sometimes people aren't willing to embrace The Dynamic Neural Retraining System - until they see the results.
Lauren was one of those people.
Lauren's journey with illness started in 2002 when she was only 12 years old. Over the years her state of health continued to decline - despite extensive search for answers. Also, during college Lauren had contracted a number of different viruses.

Her parents have spent over $100,000 in out-of-pocket medical expenses. Lauren had been to see 35 different specialists over the years, including 6 doctors at the Mayo clinic. They exhausted both the allopathic and alternative health care systems and again, found no lasting relief for their daughter.

Lauren was diagnosed with a number of illnesses including Asthma, Chronic Fatigue Syndrome, Fibromyalgia, Irritable Bowel Syndrome, Anxiety, Narcolepsy, Mitochondrial Dysfunction and a list of sensitivities to light, sound, food and chemicals.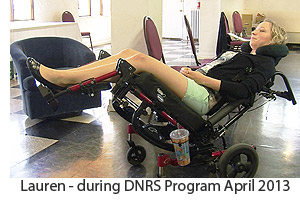 Her latest diagnosis in a string of illnesses was Postural Orthostatic Tachycardia Syndrome.

Due to plummeting blood pressure and increased heart rate when upright, Lauren could no longer sit up straight or stand for more than a few minutes at a time. This meant that in order to function at all, Lauren had to spend most of her time in bed or in a reclining wheelchair. Also, Lauren was so sensitive to light that it was impossible for her to even watch T.V. or be on a computer. Noise was so painful that she had to stuff cotton baton in her ears.
Needless to say, Lauren was becoming increasingly depressed given her state of declining health and escalating sensitivities. She struggled with the thought of enrolling in the Dynamic Neural Retraining System™ as she had tried so many different treatments already. She wondered if she should finally just accept her life the way that it was. If that was the hand that she was dealt, then she was willing to accept it. After all - having dashed hopes is a costly venture.
Lauren started to make some headway in her recovery first through the DVD's. Due to her light and sound difficulties, her father creatively found a way to export and slow down the sound track on the DVD so that Lauren could just listen to the information. Even with just the sound, Lauren started to notice some improvements, but due to illness she lacked the cognitive ability and motivation necessary to really understand and implement the limbic system rehabilitation exercises. However, the improvements that she did make with the DVD allowed her to attend the in-person program in Santa Fe in April 2013.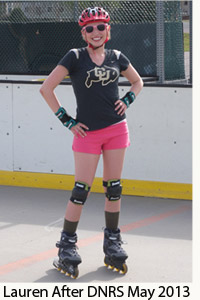 Since then, Lauren has been able to fully embrace the program and make colossal changes. Her dedication to her limbic system rehabilitation is paying off in the biggest possible way! She is now living a very different life and she is looking forward to her future! Daily, Lauren is noticing how she is able to do more and more. Both Lauren and her parents can hardly grasp the changes that have taken place in such a short amount of time. Lauren is now rollerblading, has been to baseball games, out for dinner, gone to movies and concerts, recently started to drive again and is now working out with weights! Just last week Lauren turned 23 and said, "This year is going to be the best one yet!"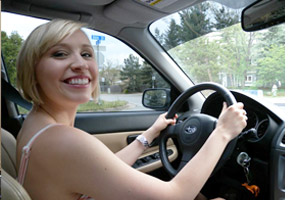 Thanks to neuroplasticity and rewiring her limbic system, Lauren, her parents and friends and family can stop worrying and Lauren can finally move forward in her life.
Lauren's mother Cheri summed up the DNRS™ in-person program in her own words; "Meeting in person with Annie and Candy, the guest speakers, and fellow clients was extremely powerful for Lauren and made all the difference for her. Her recovery has already been swift and nothing short of a miracle!"
It's hard to believe these kinds of monumental changes. However rewiring the brain is a different paradigm. Sometimes the changes happen gradually and sometimes they happen remarkably fast, and when this happens, it truly seems like a miracle. From a wheelchair to rollerblading in just over one month! Indeed, this is the miracle of the healing brain.
Congratulations Lauren and Happy Birthday!
If you would like to start your own recovery process this summer, please join us in New York in June or on Vancouver Island in August. To start your registration process, please go to www.dnrsystem.com/forms